Yesterday we worked on dedicated opt-in pages. Today it's time to start driving some traffic to them so we can start growing our lists in earnest. This is also important to get started with testing and tracking.
It takes at least 100 sign-ups for an A/B split test to give us statistically valid results. The more traffic we can send to our pages, the faster we can test and work towards better conversion rates.
We'll start with a couple of simple traffic driving techniques today that involves social media. It's something quick and easy anyone can do. Over the coming days, we'll explore all sorts of other ideas and techniques.
Start by making a list of all social media sites you're currently active on. Compare it to your list of sites that you know your target audience hangs out on. Are you missing any of them? If so, go sign up and start posting and interacting there as well.
Social Media Profiles
Log into each of your social media profiles. If possible, add a little call to action to join your list in your bio or personal information along with a clickable link to your opt-in page.
The idea is that as you post and interact on each social media site, people will get curious about who you are and what you are about. They will check out your profile, click through to your opt-in page and hopefully sign up for your list.
Social Media Posts
Next, it's time to start posting content, start conversations, and get in the habit of regularly mentioning your opt-in page.
How you do this will depend on the social media platform you're using. Some will allow you to post links directly to your opt-in page.
For example, you could create a tweet that you send out once a day or once every few days with an image of your lead magnet and a quick note inviting people to sign up along with the link to your opt-in page.
Something similar would work on Facebook, but you can also casually mention your list in comments and other related articles.
For example, if you're sharing tips and recipes on how to eat healthy in your newsletter, share one of the tips or one of the recipes on Facebook and mention that it's from the latest issue of your newsletter. Then finish with a link to where they can sign up.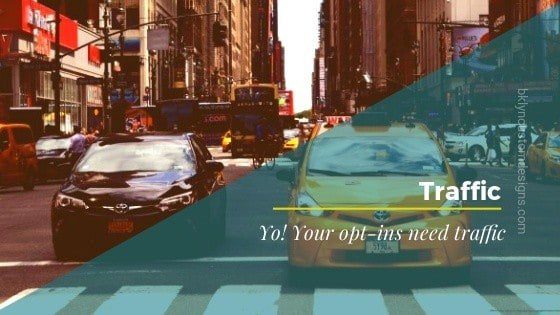 Instagram and Pinterest are a little trickier. Both are heavily image-driven social media platforms. Start with a great image that captures what's in it for your readers and subscribers, or creates curiosity.
For Pinterest, add some text to the image and then a description with a link to your opt-in page. You can even have the pin link directly to the opt-in page.
With Instagram, you can't include clickable links. Instead, use a compelling picture and then encourage readers to click on the link in your profile – which will send them to the opt-in page.
Let's say your list is about getting more traffic to your website and each week you share tips and strategies that help your subscribers get more traffic to their sites.
You could post a screenshot of a spike in traffic you've gotten through one of your techniques. In the comments, tell them a little bit of what you did and then mention that you share the full case study and other strategies like this in your newsletter.
Wrap it up by saying "Link in my profile".
The

Rundown
Start today by taking care of the profile links and then come up with at least one post per social media site that will drive traffic to your new and improved opt-in page.